Classroom Observation
Classroom observation videos and resources for professional development
Year 12 History: 1951-1964 - Position of woman and attitude to immigration
Year 12 Maths: Critical Path Analysis
Year 12 Physical Education: Violence in sports
Year 12 Religious Studies: The Bible as a source of wisdom
Year 13 Biology: Gene probes and genetic screening
Year 13 Geology: Geological maps
Year 13 Performing Arts: Practical piece using music, dance and drama
Better resources. Better CPD
Video-based resources for staff training, when and where you need them. Deliver outstanding professional development opportunities for your teachers and staff with Mediamerge's acclaimed lesson observations, evidence-based teaching series and a growing selection of supporting materials that are exclusively available to members.
Thousands of schools, training providers, ITT centres, and prominent government bodies trust Mediamerge resources to support teacher training and ongoing professional development.
Never be caught without materials for your next training session again.
Subscribe for unlimited access to all staff.
Unlimited access to all resources
Special OFFER (£699)
from £469 / Year
Primary: EYFS, KS1, KS2
£399  £299 / Year
Post-compulsory
£299 / Year
Further Education
£399 £299 / Year
Evidence-based Teaching
£499 £299 / Year
Pathways to Outstanding (primary)
£199 / Year
Additional videos / resources
Free to members
Observing for Impact
All memberships come with
FREE Observing for Impact
Exclusive offer!
*If paying by card, instant access is granted. Purchase orders and invoice request may take up to one working day to process.
Unlimited access
Subscription allows access to all staff, as well as additional, member exclusive content.
Lesson observations
Access to the UK's largest range of professionally filmed primary, secondary, A-level & FE observations.
Professional feedback
Each lesson observation video includes professional feedback focussed on the learning and teaching seen.
Additional resources
Additional CPD groups to subscribe to and member exclusive additional content.
More content. One fee.
As it is produced, new content will be added to the groups you have subscribed to at no additional cost.
Flexible licensing
Licences for educational institutions, ITT organisations, and commercial training providers are available.
Lesson Observations
Watch others teach!
Mediamerge filmed classroom observations include lesson plans, feedback, and supporting materials to help get the best insight into the learning and teaching, without actually being there. It is a high quality, re-usable CPD resource.
Using the same exemplar lessons allows staff watching to discuss the teaching and learning that they see, exchange ideas, and put what they learn from this into their own practice.
Mediamerge observation training materials:
show you real practice filmed in UK schools
include lesson plans and Ofsted based observation feedback reports
have question prompts to get your CPD sessions started
increase accuracy in evaluation of teaching and learning
allow you to prepare for inspection, interviews, and more
"The videos are excellent for training our observation team because…. They give real life perspective of sessions which can be used again and again. Sessions can be broken down to component parts and analysed in detail. The whole team can watch the session together and then have a professional discussion regarding the strengths and areas for development.They present a flexible and well produced training resource." Mat Scott, teaching and learning development leader
  "As part of my job role I am required to support teaching staff in improving their teaching techniques. Many of these staff deliver practical courses. Being able to use a video which includes practical demonstrations is a great way of standardising lesson observation grading for vocational tutors. I particularly liked the way the sessions on plastering was filmed and also the carpentry videos. Feedback from the sessions has been very positive about the videos so I will be definitely being using this resource again." Chris Souch, Technology lecturer
"The videos work really well when we deliver our Observation Standardisation Training Events. They are a great tool for highlighting strengths and areas for development in teaching practice and lift the theory into a realistic environment" Ruth Gilbody, teaching and learning  leader
"I really like what I see. They are about the reality of the classroom – as you say 'real teachers' and 'real learners'. We use these to train staff in lesson observation techniques…such as making judgements about lessons, and considering feedback and evaluation of lessons." Mark, Education Consultant
"Mediamerge training resources are amazing. They have supported me in up-skilling my teachers and dramatically increasing the number of outstanding lessons. I am keen to continue to use these resources as part of the CPD in my school." R Gabriel, Principal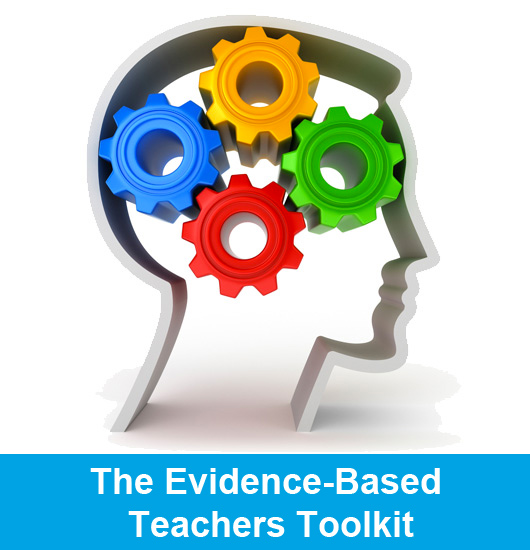 Evidence Based Teaching
The Evidence-Based Teacher's Toolkit is a series of video-based resources where we take evidence about teaching and learning and make it more accessible to teachers. Like Evidence-Based Medicine, Evidence-Based Teaching uses methods which have been thoroughly tested and proven to be effective.
Teachers can make a huge difference to their students' learning, and using evidence-based methods within their practice will empower them to support pupils even more effectively. The resources are useful to both experienced teachers, and those that are intending to join the profession, teacher trainers, managers, and others trying to improve learning and teaching.
Video-based CPD material included in this collection are:
The Top Ten Teaching Methods (video duration: 1 hour, 24 minutes)
Learning Difficulties: Different Brains (video duration: 45 minutes)
How Brains Learn (video duration: 1 hour, 22 minutes)
EduEash – Myths & Fads to avoid in education (video duration: 49 minutes)
Pupil Premium: Secrets to Success (video duration: 57 minutes)
Learning from good lessons (primary) (video duration: 40 minutes)
Find out more or subscribe today for great value CPD.
Schools & Colleges
For all staff for internal staff training purposes. Deliver exciting INSET sessions for your staff, use in inductions and recruitment.
Training providers & consultants
If you are a training provider (ITT) or consultancy delivering teacher training/development, please
contact us
for licensing fees.
School clusters, federations & trusts
School cluster, multi-academy trusts and federations may be entitled to discounts. Please
contact us
for further information.